Traditional cast iron products are proven to be versatile, durable and reliable. These sustainable products continue to meet the changing demands of modern industry.
Whilst the principles of iron casting are pretty much the same as they have been for centuries; the technology, skills, materials and understanding have all progressed.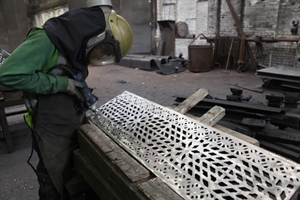 Many people think of cast iron products as old or antiquated yet bespoke castings offer something that simply cannot be replicated in other materials and are generally unique to a specific project or building. Many bespoke castings are manufactured for Heritage or Restoration projects; however bespoke castings can be made based on new designs as well. It doesn't really matter what the shape or size, whether an ornate rainwater head, a large traditional gutter profile, or a lighting column, it can still be made in cast iron.
Today cast iron still features strongly in our built environment, both traditional and modern. You may see products and not even realise that they are produced from cast iron such above and below ground drainage, street furniture, lighting standards, railings, columns, manhole and storm drain covers, window frames, pavement lights, decorative features such as urns, pergolas and water features – the list goes on. There are literally thousands of products made of or featuring component parts in cast iron.
Cast Iron, How long does it last?
Of course another benefit of cast iron is its longevity and value. Cast iron products are legendary for their durability and long life. Never mind a ten year builders' guarantee, properly maintained cast iron products will last the life of your building. Not only that, but when the building has served its purpose and is eventually demolished, the cast iron can be recycled and used again for exactly the same purpose. Given how important sustainability is to architects when designing new buildings, cast iron makes a strong case for inclusion, whether for structural products, decorative features or purely functional products such as drainage.
In addition to the cast iron rainwater, soil and heating products, Tuscan Foundry can also offer you a wide range of bespoke castings. These typically include, but are not limited to, cast iron planters, pavement lights, Lighting Columns, Benches, Bollards, Cycle Stands, Waste Bins, Tree Grilles, Floor Grilles and cast iron railings.
If you want to include cast iron in your projects, you can be confident that Tuscan Foundry can make them for you.
Need Help?
Let us help with your project